We've all seen the arguments that support Man-Made Global Warming. What we rarely see is the science behind climate change. Here is that science.
The indisputable fact is that the Earth's climate has been changing drastically as far back as science can determine. This graph from Scotese, show us the relationship of the average global temperature to geological time periods.
What causes these variations? According to many scientists, the Earth's orbit is the biggest factor. This theory hinges on the fact that the Earth travels around the sun in a slightly elliptical orbit that varies over a period of time. According to the
Milankovitch
theory (
Causes of climate change - Encyclopedia of Earth
), the variations in the elliptical orbit change the intensity of the Sun's rays on the Earth's atmosphere. The Earth's orbit cycles from a near perfect circular orbit to the maximum elliptical orbit over a period of about 100,000 years.
An additional factor may be the increased seismic and volcanic activity that is associated with the elliptical orbit. The theory here is that as the Earth's orbit changes, forces on the Earth change as well. These changes in force actually change the shape of the Earth slightly stressing fault lines and creating movement that allows for earth quakes and eruptions.
The location of the eruptions determines how they affect the atmosphere. Eruptions that occur above water release sulfur gasses that combine with water vapor and reduce the amount of the suns radiation that enters the atmosphere. The sulfur dioxide dissipates rather quickly and is nearly completely removed from the atmosphere within three years.
However, eruptions that occur below water, specifically deep in the ocean, serve to warm the ocean floor. The ocean floor is home to, among many other things, methane hydrate.
Methane
hydrate (
Solid Methane on the Ocean Floor
) is the solid form of methane gas. When the floor of the ocean is warmed, methane hydrate "thaws" and becomes a gas. The methane gas quickly rises to the atmosphere where it helps to trap radiation at a rate that is ten to twenty one times more effective than carbon dioxide. It takes up to
twelve
years (
http://epa.gov/methane/scientific.html)
for methane to dissipate from the atmosphere.
When you place all of this information together, we see a correlating pattern that links the Earth's orbit with the average global temperature.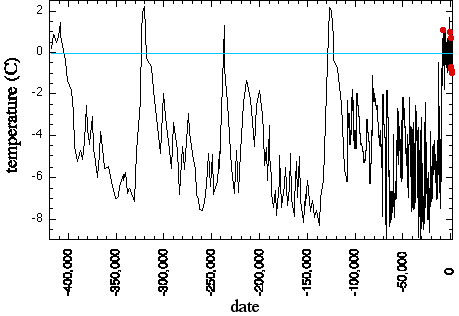 This graph shows us the average global temperature over the last 400,000 years. Notice that today is a near maximum (but still below) along with 125,000, 235,000, 320,000 and 405,000 years ago. This is a pattern that coincides with the elliptical orbit of the Earth. In all likelihood, the modern day increase of the average global temperature is primarily caused by natural patterns.